2022-2033 # The Power of Your Passion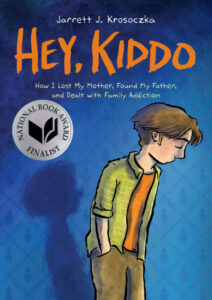 Summer Reading 2022 | The Power of Your Passion
The Cultural and Intellectual Community Council (CICC) selects the annual intellectual theme and funds related programming during the academic year. The theme for CICC sponsored programs in 2022-23 is #The Power of Your Passion.
A passion is defined as "an intense desire or enthusiasm for something.'' This can include a passion for the arts, a passion for a sport, a passion for a philanthropic cause, an intellectual passion, or anything else that sets your soul on fire. Through hard times, it can seem impossible to maintain optimism and have a reason to keep fighting. This is why having a passion is so crucial.
The 2022 Summer Reading for the class of 2026 is Hey, Kiddo by Jarrett J. Krosoczka. In Hey, Kiddo Jarrett J. Krosoczka explores how his passion and talent for drawing helped him survive and thrive despite a challenging childhood. Hey, Kiddo was a 2018 National Book Award for Young People's Literature finalist, and it won the 2019 Harvey Award for Book of the Year. Krosoczka's graphic novel series, Lunch Lady, is being developed into a movie and will feature Amy Poehler in the lead role.
We hope that reading this book will inspire the student body to lean into their passions, no matter how unconventional or fantastical. Our speaker will inspire conversations about overcoming adversity, finding the light in a dark situation, and empowering students to home in on their passion and continue pursuing it throughout their academic and professional life.